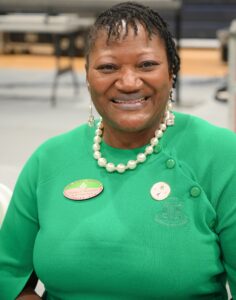 "…Alpha Kappa Alpha is the name, It's a name I'm proud to share; With some of the most distinctive women, you'll find anywhere." –Soror Patricia Neely Dorsey
Greetings,
It is an honor to serve as the President of the Mu Phi Omega Chapter. I stand on the shoulders of many who have come before me. Our goal is to Exemplify Excellence Through Sustainable Service, as we implement the vision of our 30th International President, Dr. Glenda Baskin Glover.
As our chapter members continue to provide service to the greater Georgetown community, we do so with purpose, "for such a time as this!" My goal is to be a servant leader who consistently exemplifies excellence while providing service to all mankind.
Sisterly yours,
Veronica S. McDonald
Chapter President
Alpha Kappa Alpha Sorority, Inc.
Mu Phi Omega Chapter